Hooked On Phonics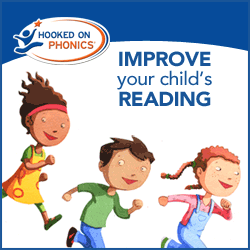 Improve Your Children's Reading Guaranteed!
30 day risk-free trail for just $14.95 + Free Shipping
Fun, Effective… and Easy as 1,2,3!
Developed by leading educators based on research on how children learn to read, each session takes just 20 minutes or less. Discover how more than 3 million children are getting better grades!
Try it today, I promise your kids will improve, I've used this program and as a teacher I highly recommend it!! Order yours today!!